September begins with in full glory at Mencey's Cookery Classroom, after a summer filled with news and special nights in this idyllic setting. The IBEROSTAR Grand Mencey Hotel is one of the most prestigious gastronomic hotels, with a long gastronomic tradition in Santa Cruz de Tenerife. Her cooking classes, many of which are gourmet courses in Tenerife with internationally renowned chefs offer you the chance to become a real chef for a few hours.
On Thursday the 18th of September, the first cooking course of the season was held, and was centred around the "hot and cold around Appetizers served around the table". This cooking course is designed to surprise family and friends in our homes, with some extremely creative appetitive and appetizers, very easy to prepare, and will definitely delight our guests. Some of the recipes that will be prepared include a Smith ham roll, Caesar salad snack, cauliflower pure with a crispy prawns and red fruits sauce.
The Cocktail Bar Iballa will continue to offer during the month of September the emblematic nights of the Mencey Lounge. The Mencey Lounge combines the best culinary proposals and the best live music, in a unique and incomparable space. Come and enjoy a perfect night at the Mencey!
On the Friday the 19th of September, the Mencey Lounge will offer a selection of gourmet tapas and pintxos, including mini Spanish avocado omelettes and tuna, fried morcillas with caramelized onions…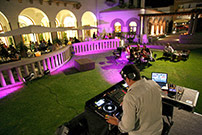 On Friday 26th of September, the nights of the Mencey Lounge will surprise you with a delicious sushi and a wide selection of hot and cold snacks. The selection of tapas will be paired with local and national wines, and of course, the delicious and exotic cocktails from our bar.
One final announcement to make, the following month of October there will be a special guest, Begoña Rodriguez, the winner of the TV show Top Chef 2013. Guests will be able to enjoy a degustation menu with many surprises…