Golfers' passion for travelling to discover new golf courses in different destinations is full well known. Playing always in the same course entail knowing very well all its difficulties, but it could be at the same time very monotonous. That is why golfers find very rewarding travelling to other places to practice its favourite sport.
In this post we will talk about the Dunas Golf in Matalascañas, a wonderful course designed by Fernando Menaya Nieto-Aliseda, placed in an unique spot in Matalascañas, one of the most important tourist complexes in the Huelva coast.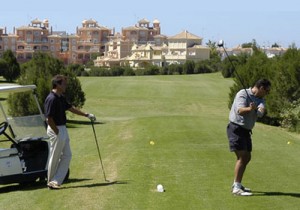 Its nearness to the Doñana's National Park allows you to appreciate from the course its amazing views of the landscape, characterised by its abundance of vegetation in the surroundings.
Dunas Golf has magnificent facilities, among which should be noted its spacious shop on the entrance and its restaurant located inside the place, where is offered a select menu with traditional dishes of the coast of Huelva.
The course is formed by 18 holes combining the American and link-style. Its functional design turn the course into an exceptional and enjoyable experience for golfers of all levels.  
The round is easy to walk and player will see himself obliged to use all the clubs and let his imagination run wild to dodge the obstacles found in the big variety of holes in the course.
Recommended hotels near to Dunas Golf: