If you are someone who, like us, has not been able to threat yourself to a proper holiday, we propose below a number of destinations and hotels that where you can loose yourself, disconnect and prolong the summer, for many has already begun its countdown. Majorca, Cabo de Gata, Ibiza or Minorca… Choose one and don't let anyone tell you that summer is over.
More summer in Majorca
It begins in May and does not end until well into October. Some years, the weather is good even during the first weeks of November and, although the Mediterranean Sea begins to cool, it is still possible to take a swim in some of its coves. The best areas to enjoy this time of year and find a good budget accommodation in Majorca are north of the island, such as resorts in the Playa de Muro, hotels in Puerto de Alcudia, rooms in Alcudia centre, iconic accommodations like the Hotel Formentor, apartments in Pollensa. In the west you can find good boutique hotels in Santa Ponsa and Costa de la Calma at affordable rates, especially starting in September. Finally, somewhere in the East Coast, most notably hotels and apartments in Cala Ratjada, designed for you to enjoy everything without worrying about anything.
If you are rather a city person, and you do not want to give up the bustling atmosphere of the city even in summer, choose a hotel in the centre of Palma or rent a room overlooking the Paseo Mallorca in the trendy neighbourhood of Santa Catalina or the Paseo Maritimo of the capital. Prices in September go down in these areas, and the cultural agenda in Palma continues to be very active with plans for all tastes and ages, from the independent music festivals to classical music concerts, expositions and opera cycles.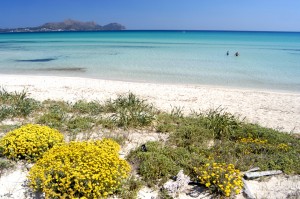 The calm of Minorca
To forget everything and reconnect with your natural side, we suggest booking a hotel in Minorca or villas in Cala d'en Bosch. Minorca is a Biosphere Reserve, a magical place full of tradition and a spectacular gastronomy. While in September the winds begin to be felt more strongly, the water of the Mediterranean on its coast remains at an ideal bathing temperature and the weather is good for all kinds of outdoor sports, especially hiking.
If you travel with friends, take the opportunity to organize a couple of days hiking in the newly recovered path of Cami de Cavalls, that covers the whole perimeter of the island and offers a very different picture of what is commonly known to a tourist who comes to Minorca. As it is a very long way it should be done in several days. In addition, stopping and enjoying the scenery is really worth it. Minorca is not, of course, an island to visit in a hurry.
Cabo de Gata
More nature, but in this case, in the south of the Peninsula: Almeria and its spectacular coastline full of landscapes that look like straight out of a film. From western deserts to towering mountains overlooking the sea, fertile orchards, sandy beaches full of light… Cabo de Gata is one of those favourite locations for photography lovers, a space in which to lose track of time and places location and to go and enjoy the hours of unlimited freedom. The accommodation in Cabo de Gata is varied and ranges from budget hotels in Almeria to 4 star hotels in El Toyo, one of the most exclusive areas coastal areas, next to the village of Retamar.
Costa de la Luz
Specifically, El Rompido and its incredible strip of sand, that stretches into the sea resulting in one of the most beautiful unspoiled beaches on the coast of Huelva. It is a destination to go alone or with your partner to restore inner peace, energy, reading, sleeping, sunbathing, eating well and enjoy what the Italians call the dolce fare niente. A few meters from the beach there are several hotels, one of the most recommendable, especially if you go with your partner is an adults only hotel in El Rompido, right next to the sand.
Use the trip to rest is essential, but if it is the first time you visited this coast, we can not but recommend that you can organise a couple of routes to see around them you will definitely enjoy it, marshlands, long beaches, gastronomic tours, parks…  Huelva is a paradise waiting to be discovered and moreover in September when the weather is still good and everything is much quieter than in August.