All resorts in the Caribbean seem to be the same. All hotels can give this impression at the time of booking… But then, when you arrive and see it, when you try it and experience it, you discover that not all are the same and that sometimes, we should research, invest more, or at least, invest well. By way of example, we have here a list with some of the last novelties in beach resorts and urban hotels in Latin America making a positive and satisfactory difference even for the most demanding ones.
Catalonia Hotels
With their Bávaro Hotel and beach resort in Riviera Maya, Catalonia is one the Spanish chains investing in more modern and complete accommodation in strong tourism destinations in the Caribbean. México and Dominican Republic are still a benchmark for relaxing holidays and both hotels' concept coincides with this line: rooms and villas on the seaside, surrounded by lagoons, swimming pools and tropical gardens, up-to-date gourmet gastronomy services, innovative entertainment options and spa.
They offer prices from $130 per night in a double room and special services for weddings and events, for both private celebrations and incentive travels.
Olé Hotels
This new line of family beach resorts in Tenerife, Ibiza and Lanzarote have also arrived to the Caribbean with a complete and renovated hotel in Cayo Largo, Cuba. Without losing its traditional charm, with architecture typical of the island, this resort is situated on the seashore, very close to famous beaches such as Playa Sirena, Playa Luna or Punta Mal Tiempo.
Olé Playa Blanca Resort stands out for being very similar to a Cuban fishing village with 4-star services: spa and wellness centres, huge swimming pools next to the beach, lush gardens, innovative All-inclusive service, yoga and Tai Chi courses… Very affordable prices, like the Olé Hotels in Spain.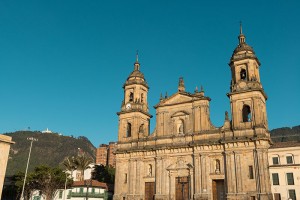 Dann Hotels
If don't want to go to the Caribbean, but you want to discover some of the most interesting countries in Latin America, our recommendation is to visit Bogotá, Colombia. There you will enjoy the capital atmosphere of a dynamic city full of projects, culture and traditions.  The most outstanding and innovative accommodation is offered by one of the most emblematic hotel chains in the country.  Dann Hotels, with more than 50 years working, they boasts urban and holiday hotels in the main tourist places of Colombia.
The best hotels are situated in the centre of the capital, in the most exclusive areas: Dann Avenida 19, Casa Dann Carlton or Dann Norte Bogotá. 4-star hotels and deluxe hotels. All of them have an attractive price-quality relationship. Ideal for a quiet and safe trip. Outside Bogotá, one of their most outstanding hotels is in Ibagué, and outside the country, Dann Carlton Quito, in Ecuador.